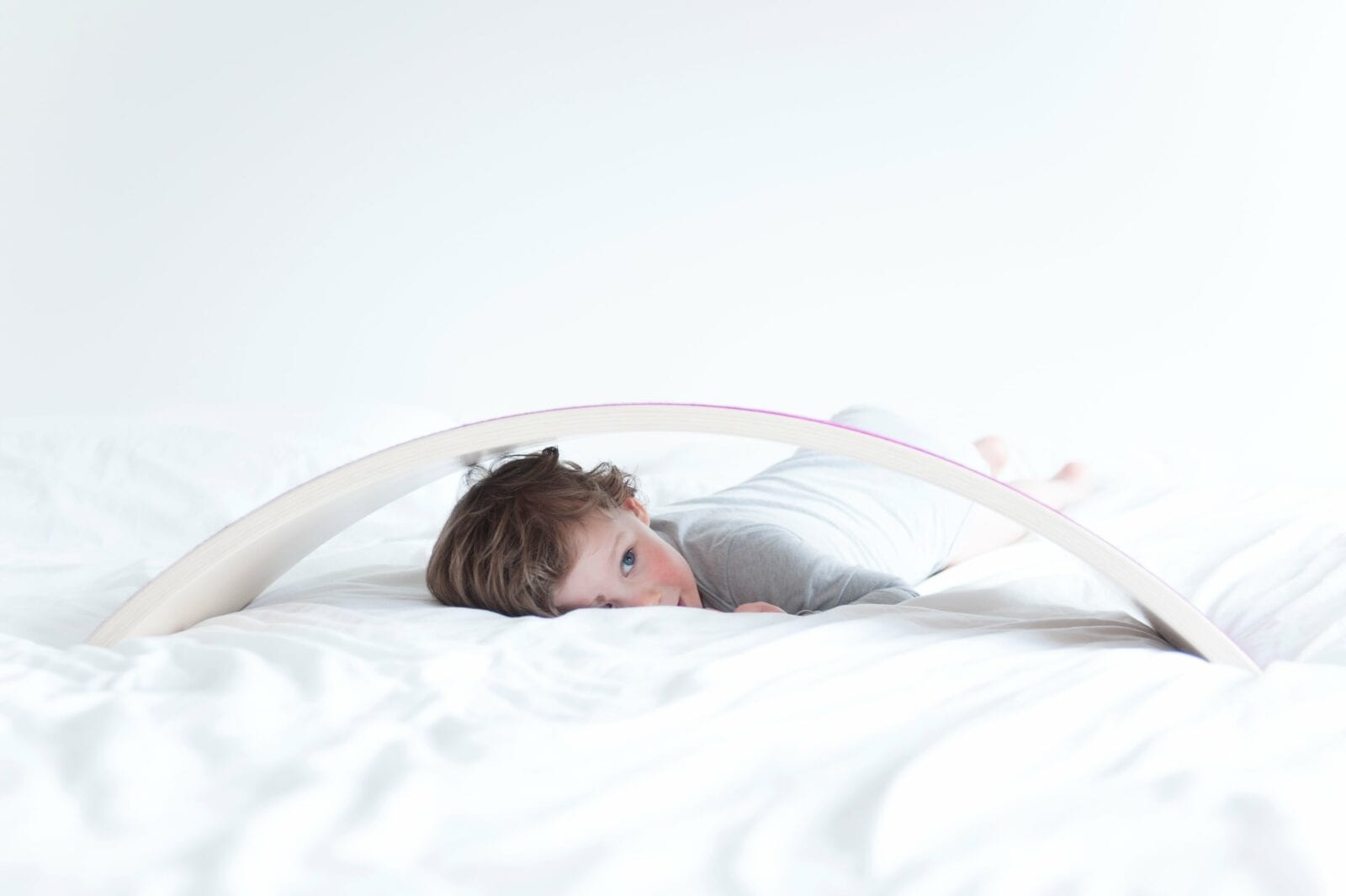 Showing 1–48 of 52 results
The Wobbel: wooden toys that move
You can call the Wobbel balance boards toys, that's correct. But the Wobbel is also a great learning method, a handy step up, a bouncer and simply a great thing. So they're toys with plusses. The origin of the Wobbel lies at the international Waldorf schools, that we know as the public school. The educative plusses of the Wobbel are that your child 'practices' their balance in a playful manner, develops muscle groups and co-ordination. The Wobbel is like a magnet to children, and they think of all sorts of things to do with it. The balance boards are available in many different varieties.
Dress up
The Wobbel is meant for using indoors, but it is a toy with an instruction. Your child needs to be taught how to use it, and under adult supervision at first. You'll notice quickly that it is a toy that moves. Children immediately get creative with it. If you have soft floors the non-stuffed versions are recommended, for hard floors we recommend the ones with a felt coat underneath. You can even dress up the Wobbel in accordance with your interior design! You can choose from many different colours and felts which they are coated with.
Spelen met balans
This balance board will stimulate your child to play with their balance and strength. You can also train and strengthen certain muscle groups with the Wobbel. Children will quickly discover that you can do way more with the Wobbel. A bouncer – but watch out with the fingers – or the roof of a tent. The shape of the toy makes it irresistible and we of Akomo Kids just find it looking very beautiful. Certainly also the latest addition to the collection, the honest and plain looking Wobbel Starter.
Unique
Each balance board is made of carefully stapled and pressed layers of beech wood with a unique arch. The foundation can then be coloured, and also equipped with felt coatings in different colours. Have a look at the possibilities and we'll assure you that the Wobbel toy is not something you have to clean up! The Wobbel is meant for indoor use, but if you'll be careful it can be used outside as well.
The creators, Hannelore Blaauw and Wouter Haine, about their child:
Hannelore: 'When I saw the board for the first time, I felt like this fascinating arch had a lot of potential. After our first selfmade Wobbel was laying in our living room, and saw what it triggered in our children, it became completely clear. The Wobbel is the inspiring toy that goes against the tide in times of computer screens and boring toys. The Wobbel entices the mind, body and heart.'
Wouter: 'The funniest moment was when I layed down the first unfinished prototype in my room without any instructions. My daughter had already figured out 20 different ways to play with it in 10 minutes time. One of my favourite things is to put a soft cover and pillow over it, and turn it into a delightful lounge chair. It's clearly a wooden toy that moves.'
But also this
With every Wobbel comes an instruction, and that's not for nothing. It's about a very mobile toy that you child needs to be taught how to use. Just like learning how to ride a bicycle. Parental supervision is especially advised in the beginning.
Subscribe to our Newsletter
Don't miss any news and offers!